Concept to Creation
Innovative design and our creativity with timber enable us to bespoke uniquely handcrafted furniture.
Since 1985 we have acquired a reputation for delighting our clients with furniture that is purely functional, purely aesthetic or the perfect balance of both.
Recent Work
Feminine Sculpture
We were asked to create an award for Women of the Year. This is what evolved… the base is Burl Totara, partly worked and partly natural. The figure is Black Maire, one of our strongest and most durable native timbers.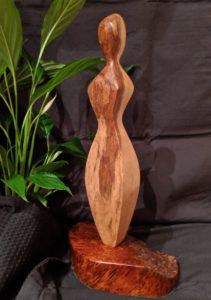 View Gallery
'Terry was able to understand the image I had in my mind and bring it to life!'
Pat Cushing